What is Trichology?
Trichology is the branch of medical, cosmetic study, and practice concerned with the hair and scalp.
How to recognize the primary scalp conditions contributing to thinning hair, hair loss and treat it.
Recognizing scalp conditions that lead to thinning is the first step in our hair restoration journey. Here are some skin conditions that lead to thinning and hair loss, their symptoms, and what can be done to treat them.
Tinea Capitis, or ringworm of the scalp, is a fungal infection of the scalp (Dermatophytes) that is incredibly contagious that can lead to long term damage of the scalp. Note: Tines Capitis is not caused by an actual worm but rather a fungus that develops and grows on the scalp over time due to the following.
Causes:
This type of ringworm is typically caused by poor hygiene.
They gravitate towards the warm parts of the scalp that produce sweat.
The infection can also be spread from sharing combs, pillows, and beddings that have been used by people who are already infected.
House pets such as dogs and cats and farm animals, including horses, cattle, and pigs, can also spread ringworm.
Symptoms include:
Irritated and Itchy patches on the scalp
Bald spots
Brittle hair
In some instances, a slight fever
Treatments:
There are digestible antifungal medications such as griseofulvin or terbinafine hydrochloride (Lamisil) that can be taken for six weeks. Potential side effects include diarrhea and an upset stomach. There are also instances where your doctor may prescribe a medicated shampoo alongside containing ketoconazole or selenium sulfide.
Folliculitis is an infection or inflammation of the hair follicle/ pore or opening to the root of your hair.
This is caused by:
Bacterial infections (typically Staphylococcus aureus)
Fungal infections
Viruses, sickness, or a weak immune system
Contracted from sharing towels, soaps, or clothes
Shaving, waxing, or plucking
Symptoms:
Red or irritated patches on the scalp
Pimples in the pores of the hair follicles
Red, white, or yellow bumps
Swelling, soreness, or pus
Itching and pain
Brittle hair
Treatment:
Fortunately, folliculitis will go away on its own in roughly 1-2 weeks. Your doctor will prescribe oral or topical antibiotics or antifungals. Antihistamines can be used for itching or pain. Please consult your doctor In cases of a fever, a spreading rash, or pus-filled pores and bumps.
Seborrheic Dermatitis
Seborrheic Dermatitis is a common skin condition affecting the scalp and resulting in scaly skin.
Causes:
Overproduction of sebum (an oily secretion of the sebaceous glands)
Oily scalp
Fungal infection
Symptoms:
White patches reminiscent of dandruff
Greasy or oily skin
Itchy or irritated scalp
Treatment:
Seborrheic Dermatitis, as a condition, does not harm the hair follicles themselves, but excessive itching can have a detrimental effect on the scalp. Fortunately, there are shampoos, creams, and lotions, as well as antifungal products to aid in relieving the scalp.
Lichen planopilaris
Lichen planopilaris is an inflammatory condition that causes patchy hair loss, mainly on the scalp. It is a form of lichen planus that most often affects women in young adulthood.
Causes:
An Autoimmune Response
Reaction To Certain Medication
Family History Of Lichen Planus
Symptoms:
Swelling and irritation of the scalp
Hair loss causing patches
Itchy and painful scalp
Red and swollen follicles
Treatment:
There are many forms of Lichen Planopilaris, and it typically goes away on its own over time. That said, if one has already started to lose hair in patches, affirmative action may be necessary. At that point, consulting a dermatologist, who is the only one who could adequately diagnose a person's specific problem.
Dandruff and Itchy Scalp
Dandruff and Itchy Scalp is a skin condition that mainly affects the scalp.
Causes:
Dry Skin
Seborrheic dermatitis – red skin, scaly patches
Yeast-like fungus
Age- young adults to middle age
Gender- males have more dandruff
Oily scalp
Neurological diseases- people with Parkinson's disease are more likely to get seborrheic dermatitis
Symptoms:
Scalp itchiness and irritation
Weakens hair follicles from scratching, leading to hair loss
Small white flakes
It is also worth noting that Androgenetic Alopecia (pattern hair loss) can be treated with great success if caught early. In many cases, hair loss can be halted and even reversed. So this is relevant to scalp conditions as well as pattern baldness.
Treatment:
The use of professional products, anti-dandruff shampoos, special lotions, and various herbs have been proven to be quite useful in combating dandruff as well as an itchy or irritated scalp.
In summary, many similar symptoms between the various scalp conditions lead to hair loss. The vast majority of them deal with itchiness, irritation, a fungal infection, or infected pores. All of which contribute to long-term damage to the scalp. The next step in taking ownership of your hair scalp and hair wellness journey to ensure you are getting the best treatment therapies from certified Hair Society technicians, and the best products to ensure the healthiest environment, which allows your hair and scalp to flourish.
Using the Correct Formulated Products to Control Hair Loss and Thinning Hair
Finding and using the right products to keep your scalp healthy is key to maintaining full and healthy hair. The Hair Society endorses and uses Capilla products that are 100% organic, safe, effective, and ethical.
The Hair Society is dedicated to providing natural hair salons with the necessary training and certification to offer their guests these services. We strive to excellently restore your hair in an acceptable way that is long-lasting. So when you are working with The Hair Society, you'll have the satisfaction of exceptional service from highly educated professionals dedicated to your hair and scalp health.
We offer the following at-home kits and in salon services:
Laser Therapy Synergy Growth-Enhancing Action Kit
Fine and Thinning Hair Formula for Women kit
Density Control DHT Blocker Formula for Men kit
Well Being Care kit – Formulated for during and after chemotherapy treatments and more
In-salonresidue on scalp treatments
Membership with The Hair Society
Along with our salon training, we include one of each of these kits and in-salon back bar kits, along with a WIFI digital scope to analyze your guest's scalp, and a CapillusRx Laser Cap.
Using Low-Level Laser Therapy to Control Hair Loss and Regrow Your Hair
Aside from using various wet products to help prevent hair loss, Laser therapy is a good modality to help with hair and scalp wellness, hair loss prevention and even restore your existing hair.
Studies have shown that Low-level laser therapy, also known as red light therapy or cold laser therapy, irradiates photons into scalp tissues. These photons are absorbed by weak cells to encourage hair growth. It is widely accepted that the procedure is safe, tolerable, and less invasive than hair transplant surgery.
The way laser treatment works for hair loss is that the low-level laser treatments invigorate circulation and stimulate hair follicles to grow hair.
As of this articles release, the CapillusRx laser cap, has the most laser diodes; 312 medical-grade diodes to be exact, and offers the industries best warranty, backed by a company with a proven track record for quality and customer service.
If hair loss runs in your family, Capillus laser therapy may be an excellent treatment option for you.
What is Xtrallux?
Xtrallux has FDA-cleared, wearable, battery-operated laser therapy devices recommended by an elite network of physicians to restore thinning hair due to genetics and inflammation caused by androgenetic alopecia. It helps to prevent the progression of hair loss. With a flexible-fitting design that makes it more comfortable than ever to use, Xtrallux laser caps delivers a clinically proven low-level laser technology to help restore thinning hair due to genetics (androgenetic alopecia).
Wear for just 6 minutes every day under a sports cap. Its ease of use encourages compliance for maximum results. You can wear it with the provided hat or any other of your preference. It works for both men and women by provides laser therapy to the follicles on the scalp by treating hair loss and hair thinning at home or on-the-go without medication, surgery, or known adverse side-effects. If you begin treatment during the earlier stages of progression, Xtrallux caps can slow down and even stop further hair loss, and regrow, thicken, and stimulate regrowth of hair that has miniaturized.  The Hair Society endorses the entire line of Xtrallux laser products.
What To Expect
Keep in mind that it takes time for your hair and scalp to respond to the recommended therapies.
You will not notice results immediately as it takes time to restore follicle health and then for the new strands of hair to grow.
We recommend you take pictures of your scalp before you begin treatment so you can effectively keep track of results.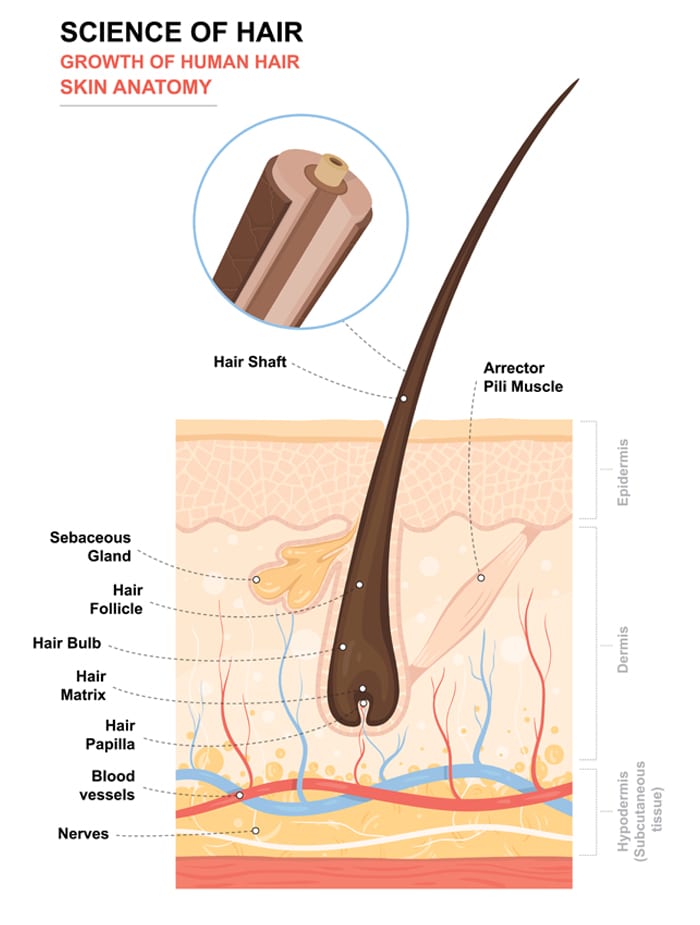 If you are interested in the Trichology: Back to Basics certification class, simply complete this form below and we will contact you with all of the details.